Community Crime Prevention.
By leveraging insights from our community, you'll know whats happening around you real time and how together we can make our community safer.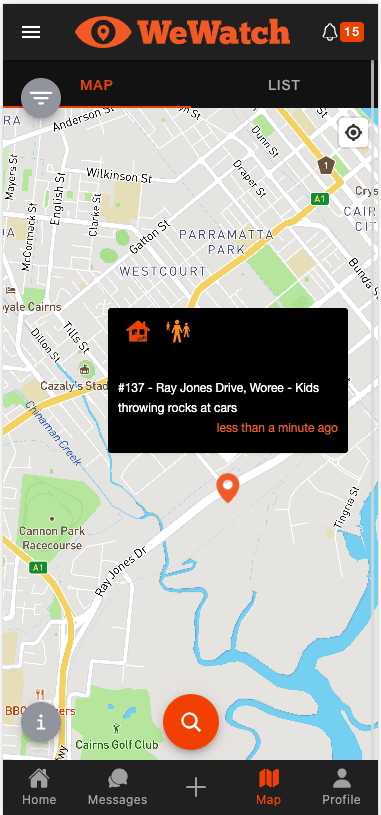 Our Vision and the Team
We're an experienced team who are passionate about making an positive impact and delivering better outcomes for our communities.
Ben Kuhanez

Co-Founder / COO

Cairns, Australia

Coming from a career in law enforcement, I've seen firsthand the need for innovative solutions that help keep our communities safe. Founding this startup gives me the opportunity to apply my experience and work with a team to create technology that can make a difference.

James Philp

Co-Founder / CEO

Cairns, Australia

My time in the military and personal security has taught me the importance of being prepared and team work. We Watch allows me to use that experience to help create technology that can keep people safe and promote community

Darren Rogan

Co-Founder / CTO

Gold Coast, Australia

I've spent over 15 years building and scaling startups and developing innovative technology. My passion for helping the local community has led me to create things that make a real difference.
Keep Your Community Safe with Our Community Crime Prevention App.
Get real-time incident alerts, location-based reporting, and community chat to nip crime in the bud before it becomes a problem.
Location-based reporting

With our app's location services, you can report incidents and disturbances in real-time with just a few taps, making it easier than ever to stay on top of crime in your area.

Community chats

Connect with your neighbors in real-time through our chat feature, so you can discuss incidents and coordinate efforts to keep your community safe.

Real-time incident notifications

Our app alerts you to crime or disturbances in your community as soon as they happen, so you can take action to protect yourself and your neighbours.

Privacy and security

We take your privacy and security seriously, which is why our app is built with state-of-the-art encryption and data protection measures to keep your information safe.

Personalized safety tips and recommendation

Our app provides personalized safety recommendations based on your location and the types of incidents reported in your area, so you can take proactive steps to protect yourself and your family.

Quick and easy reporting

Report incidents and disturbances quickly and easily with our intuitive reporting system, which includes photos and other relevant details.
Everyone is joining up to We Watch.
Helping the community come together.
From the blog
Learn how to grow the safety of our community with our expert advice.
Frequently asked questions
If you have anything else you want to ask, reach out to us.
What is WeWatch?

WeWatch is a crime prevention location live notification app designed to help users stay informed about criminal activity in their area in real-time.

How does WeWatch work?

WeWatch uses data from the community to provide users with real-time updates on criminal activity and incidents in their area. Users can also report suspicious activity and share tips with each other through the app.

Is WeWatch free to use?

Yes, WeWatch is completely free to download and use. There are no hidden fees or charges.

Is my personal information safe with WeWatch?

Yes, WeWatch takes user privacy very seriously and uses the latest security measures to keep user information safe and secure.

Can I customize my notifications on WeWatch?

Yes, you can customize your notifications to receive alerts for specific types of crimes or incidents, such as burglaries or assaults.

Can I share tips with other WeWatch users?

Yes, you can share tips and information with other WeWatch users through the app. This helps to create a community of vigilant citizens who can work together to prevent crime.

How can I download WeWatch?

You can download WeWatch for free from the app store on your iOS or Android device. Simply search for "WeWatch" and follow the instructions to download and install the app.

Where is WeWatch based?

We are from Cairns in Far North Queensland and we are here to help our community.

Is WeWatch available in all cities?

Currently, WeWatch is only available in select cities across the Australia, but the app is continually expanding to new areas. You can signup to the newsletter to get notified when it is available in your city.